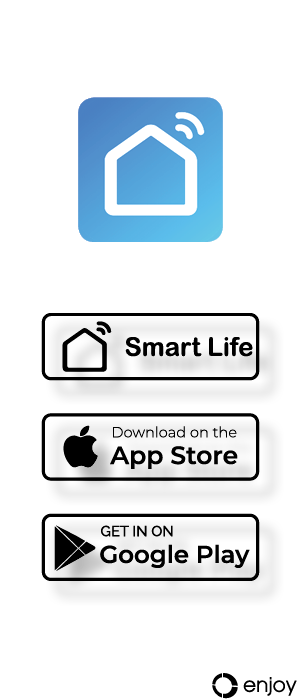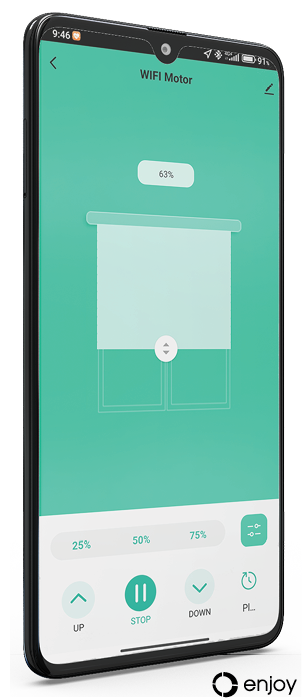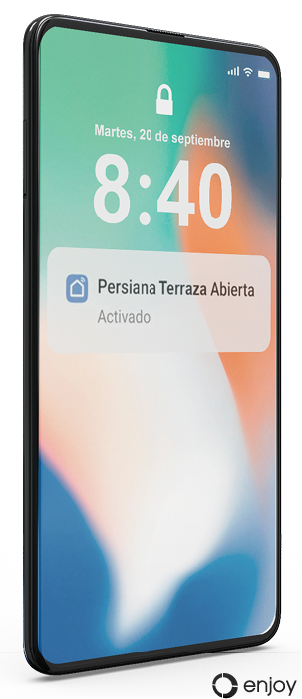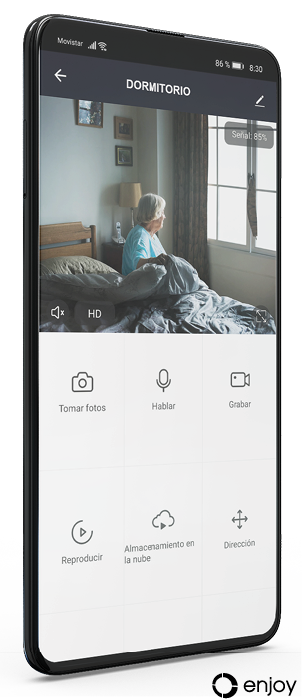 SMARTLIFE AS INTEGRATORY ECOSYSTEM
Smart Life is an app compatible with both Android and IOS, it is free and allows control from the smartphone or voice assistants of the various motorized systems with the Enjoy products such as:
Roller shutters and new "Orienta" type
Different Awning system: vertical, balcony, patio, ... and full cassette, semi cassette or open
Rolling blinds and inner screens
Outside roller blinds as vertical screens and zip systems

But also, we can make them interact with a multitude of other smart devices:
Electric components
Lighting systems such as smart bulbs, led strips, ...
Small and large appliances
Sensors for temperature, light, air quality...
Interior and exterior cameras, video intercoms, ...
Door and window sensors
Thermostats, temperature control
Entertainment systems

It is therefore one of the apps with the largest number of compatible devices, from which we can command our entire home if we choose the right products. In the meantime, its community is growing every day, an example of this is the more than 5 million downloads it accumulates on Android. Having a large number of users and a large number of compatible devices make this app one of the best options to turn your house into a smart home

What are you waiting for? Motorize your home with Enjoy products and start enjoying your connected home
Smart Life allows us to have full control of the home and perform a multitude of tasks that will promote convenience and comfort in our day to day, such as creating routines, managing automations, creating groups of devices, setting schedules, timers, turning on, off or controlling multiple teams
An example of any given day for us could start by gently turning on the bedroom lamp, opening the roller blinds after a few minutes and at the same time turning off the lights. Once in the kitchen, the water in the kettle will heat up while the toaster is turned on with a limited time to prevent the bread from burning. With breakfast ready, turn on the TV with the news and adjust the temperature of the air conditioning or heating...
The best thing is that all these tasks are carried out completely automatically, either by pressing a button on my mobile phone, saying a phrase to my voice assistant or setting a specific time for each day of the week.
As you can imagine, there are countless daily situations that are repetitive in our home and that, by automating them, make us have a more comfortable and efficient life, avoiding leaving certain appliances on due to forgetfulness, favoring energy savings and allowing us to focus on what is really important.
A CONNECTED HOME IS MUCH MORE...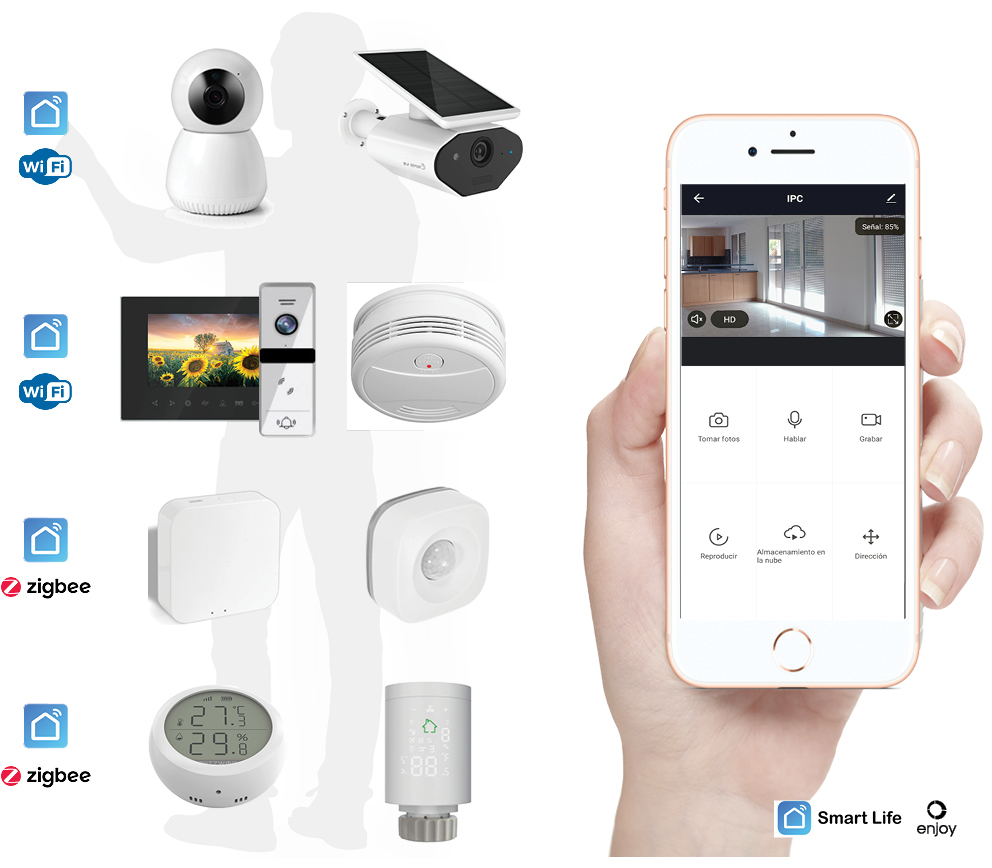 So far we have focused on the different products or devices that we at Enjoy offer our customers as those closest to the day-to-day life of our main market.

But SmartLife is much more than open or closed awnings and roller shutters. This app allows you to create a complete ecosystem at home, with which the home owner can gradually integrate hundreds of devices that will help you create a true smart home

Products such as inside/ouside cameras will help us to have greater control of our home, even when we are not in it. In addition, interacting between these products and the roller shutthers from our customers is very simple, since user can receive a notification when a motion detection outside is activated and them he can closed all the roller shutters to increase the security at home

Motion sensors, smoke sensors, temperature, ... are also products that will warn of certain incidents in the home, and can also command the roller shutters up or dowb depending on the type of alarm

The products compatible with the SmartLife app use different types of technology such as Wi-Fi, Bluetooth or Zigbee connection, so there is a wide variety of products and systems adapted to each need.
Just look for products compatible with SmartLife, make sure they contain this logo: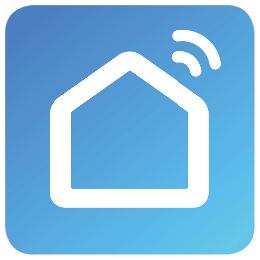 Enjoy Motors is not responsible for the operation of these devices and does not provide technical service on them.
Do you want more comfort?

Alexa, open the roller shutters!
The way of interacting with our houses and the different appliances and other devices that are integrating it, has changed a lot in recent years. The science fiction movies of the past told us how we could open or close roller suhtters, curtains, ... turn on/off lights with your voice, but it has not been until now when this technology is available to everyone, with a simple integration in homes and in a low price .
In a few years, we have gone from activating the motors of our roller shutters or awnings effortlessly from a switch; going through a remote control without having to go to the roller shutter; managing our roller shutters or awnings from our smartphone, when we are not at home; and finally to the comfort of being able to do it when we are lying on the sofa in the living room, without moving, and together with many other products or appliances by just asking Alexa or Google to do it for us
Hey Google, good night !!! and all motorized applications with Enjoy R4 are automatically close, providing privacy and security to our home
Alexa, good day !!! and our roller shutters are opened at time that awnings are extended to let it the light, but not too much avoiding the extra heater at home
What are you waiting for? Motorize your home with Enjoy products and start enjoying your connected home
SMART LIFE HELPS US INCREASE SAFETY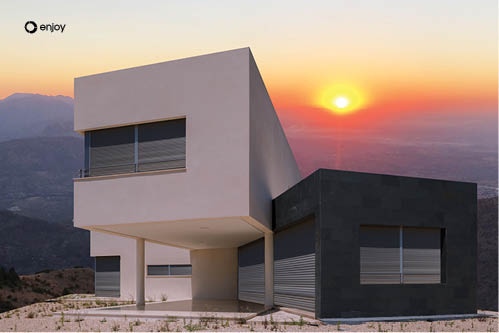 Smart Life has become an ecosystem where thousands of products of a very diverse nature coexist: Enjoy products but also, coffee makers, electric water heaters, thermostats, smart bulbs, cameras, door and window sensors or motion detectors, etc..
By interacting with this type of product, in an ecosystem like Smart Life, we can increase home security.

If we want to focus on our roller shutters and what we can do with them, the simulation of presence in the home has been carried out for a long time with remote controls that have the Timer function. If we are already using the app, either with the gateway for the Enjoy R4 motors or with one of the new proposals that we have been discussing, we can set scenarios that will be carried out automatically once the established parameter has been met.

For example, we can create a scenario by which at 'Sunrise', the roller shutters are opened and the garden lights turn off. The sunrise parameter changes daily, that is, the time in which the sun raises today is not the same as the day after tomorrow, so if someone is watching the house and checks that the roller shutters open at different times each day, will think it is inhabited, so the scenario created from the app can help us avoid trouble with occupation or theft.

In addition, if we add exterior cameras, motion sensors, magnetic doors, etc. to the installation, we will increase the security of the home, all integrated into a single app.
Enjoy Motors is not responsible for products compatible with the Smart Life app, not marketed by Enjoy Motors SL
WE PROTECT THE HYGIENE AND PRIVACY BETWEEN THE INSTALLER AND USER
One of the issues that the installers of our customers ask us in the training courses, is the possibility to add the different motors on the app from the installer's mobile phone and not from the home owner's..

Having to access the owner's mobile to configure the gateway and the different motors , means get delays in their own work in many cases, since: the phone is frequently protected; calls usually come in that the owner must answer; the installer is not familiar with the customer's phone, ...
In addition, there are other important factors. The hygiene regulations imposed during the pandemic have led us to be more reticent to touch other people's objects or that another person touches ours.
Lastly, by carrying out all the programming from the installer's device, we will prevent the user from feeling invaded in their privacy.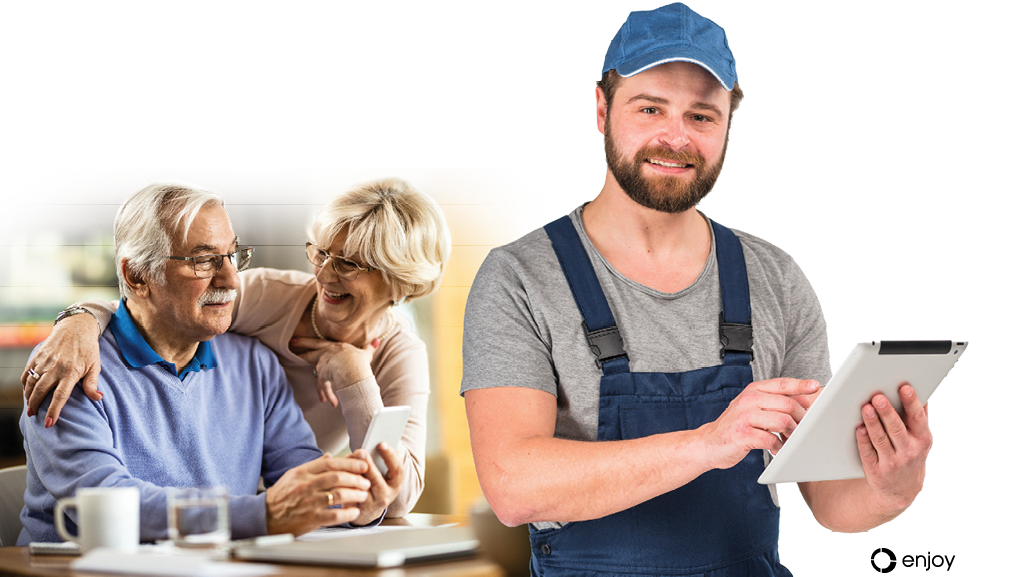 From Enjoy Motors we can answered this question as YES, since the installer, directly on his mobile phone and through the Smart Life app, can create a new home, configure the different general parameters for it such as location, name of the rooms, add the gateway and the motors in each of them and, once all the installation is done, transfer the fully configured home to the owner's mobile phone.
In addition, once he transfers the data of the house and makes the owner its administrator, the installer is eliminated, also closing any link or access to it for security reasons..