at enjoy, we have motors

for each one of your blinds
Roller blinds are probably the most modern and functional model curtain, ideal to regulate the brightness of the outside in rooms, with a wide variety of fabrics like sunscreen, zebra, black out, etc, for all kinds of decorations and needs. They also provide us with a high degree of intimacy to the outside
You can find the right motor, for each one of these roller blinds as enjoy adapts to all these models or systems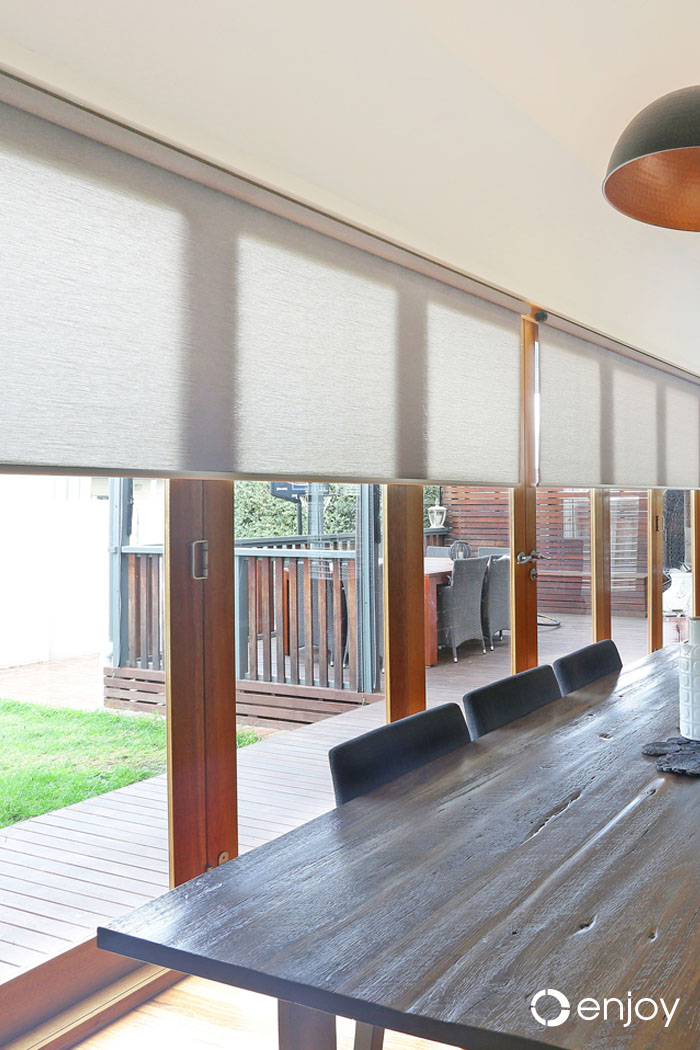 Motors built-in radio receiver, enjoy R4 and buit in battery:
What if we delete all the extra works and wirings to powerer each roller shade (blind)? enjoy's low-voltage motors are powered by a battery that is recharged through its solar panel or charger ... We reduce the extra work to motorize a blind in addition to using renewable energy
Motors built-in radio receiver, enjoy R4:
Enjoy your roller shade remotelly, just installing an enjoy R4 radio motor and  chose the remote control more convenient for you. Now, you can command it as you want, in addition to being able to make groups of motors easily and without adding wiring ... Furthermore, all these motors can be operated from a smarphone (android or ios), Alexa or Google home just by adding the IHG device
Motors with electronic limits setting and parallel connection:
What about if you have some roller shades (blinds) which should work as a group. As the parallel connection up to 5 motors is allowed for this kind of motors, by connecting all of them into a single and standard switch they can operate as a group ... simple? very easy
Traditional limits setting motors:
When we only seek the comfort of having motorized our roller shades or if we want to integrate them with other systems, motors with mechanical setting (being the most standard ones) adapt to these situations. They are simple system: one motor plus one switch and our roller shade easily goes up and down ...
Motors to place on the curtain chain:
What about all the roller blinds that are already installed or those that can be purchased in ready-made shops ready to install? Enjoy proposes for all these thousands and thousands of curtains the JECAD motor that is placed directly on the curtain chain without the need to disassemble the rolelr shade and in a simple and comfortable way, it is possible to raise or lower the curtain from a button or even from the mobile thanks to the bluetooth connection
Come to enjoy and start enjoying