enjoy has a remote

and devices for all needs
Not all people have the same needs and each installation is different from the others. That is why at enjoy we want to propose a wide range of remote controls that are adapted to the many uses of the motors and the different applications to be commanded ... Remotes to command an individual motor; Remotes which can command several motors both individually and in groups; Remotes with timer; Remotes to command adjustable roller shutters;  Remotes for awnings, excluding the solar sensor, with activation or deactivation of the led lighting on the awning ...
Besides, there are some times in which final user, installer or the main application requires to use an electronic or mechanical motor but commanded through a remote control, either by adding security systems such as photocells or others, or by wanting to provide the possibility of manual operating with a hand crank, ... for all these cases, at enjoy we also propose a series of external receivers to be used with electronics or mechanical motors

Finally, there are some times in which the complexity of the centralizations to be carried out require the use of relays or other external devices. Discover the enjoy range of these devices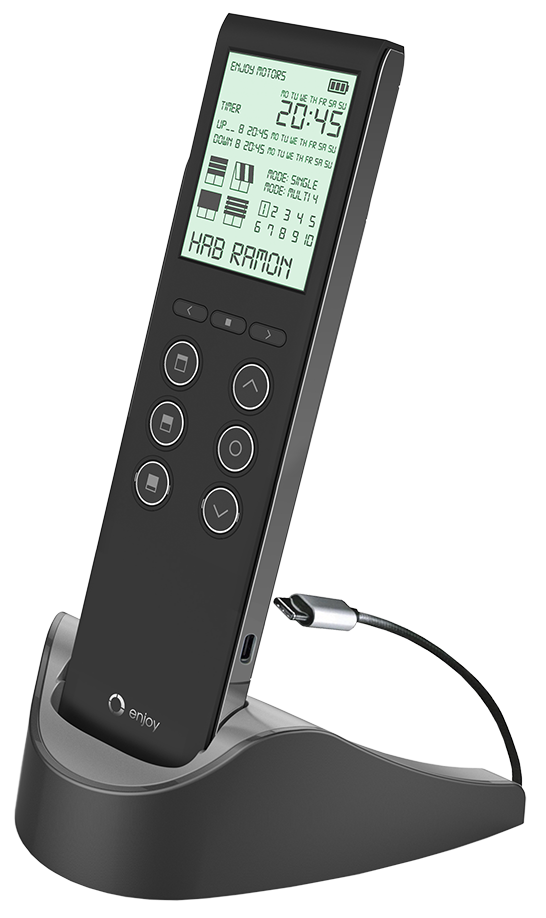 TITANIUM, are enjoy's remotes:
The new line of remotes TITANIUM is fully compatible with the other enjoy R4 products, so they can be used both in new installations as to extend previous ones which was made with radio enjoy R4 products. These types of emitters can be used with applications such as roller shutters; awnings; awnings with led lighting; adjustable roller shutters; roller blinds; zipscreen; ...
STEEL, are enjoy's remotes:
The current range of remotes from enjoy, is the popular STEEL. They are a full line of  remotes in white color and a steel frame, which adapt to all enjoy R4 motors and receivers. They ca be used to command roller shutters; awnings; awnings with led lighting; adjustable roller shutters; roller blinds; zipscreen; ...
MURUS, remote control mounted wall:
Sometimes, placing a wall-mounted remote as it was an standard switch is best way to reduce costly installations, replacing wiring command points for simple remotes. With them we can ad as many command points as we need for eac motor but also we can do groups and subgroups with them, easily and without extra works.
For all of them, at enjoy we propose MURUS, remote controls with touch technology and another conventional wall-mounted remotes
Mini remotes and Dry-contact remote controls:
Mini remotes are the suitable product to be used with garage roller doos. Being a wereable remote, they have a key-ring, a cover to potect the buttons when it is on the pocket, ...
Enjoy propose also dry-contact remotes which allow to use our enjoy R4 motors or receivers with external third party products. These remotes can get commands from the thirp party products by wire and translate it into radio R4 enjoy signal
Sensors for un protection products:
Enjoy R4 Sensors for sun protection systems, provide comfort for users and safety againt wind for awning and other appliations. They help us to reduce the solar radiation inside homes, so it reduce the needed of air conditioned, ...
External receivers for mechanical or electronics motors:
Enjoy R4 receivers, help us to convert a mechanical or electronic motor into a radio system which can be controlled by both the different remote controls or from an smartphone by adding the IHG hub
Switches and other control system via cable:
The different switches, push buttons, security keys, are used to operate the product in which they are installed. Mechanical or electronic motors or some radio products (motors and receivers) require this type of command points to be operated. In addition, there are also devices to do group of motors; relay to add more than one command point per motor; ...
Come to enjoy and start enjoying